Preparing for the Worst!
9/4/2019 (Permalink)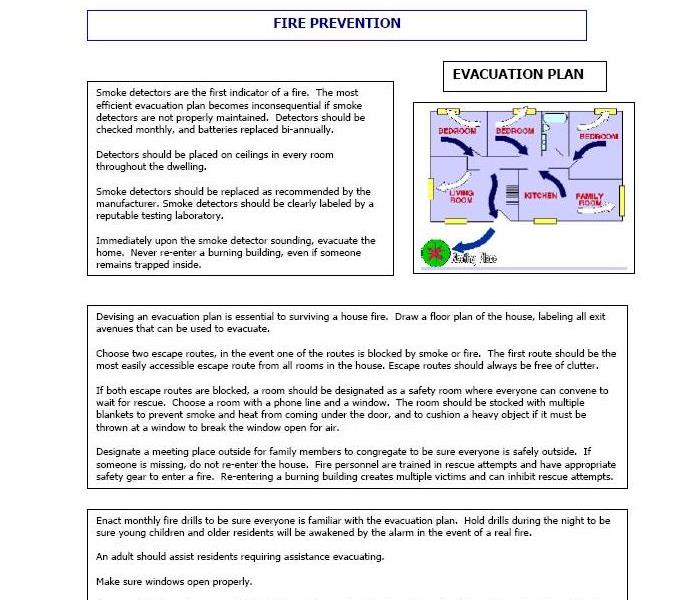 By beginning the process of learning about specific threats relative to where you work or live, you are preparing yourself to react in an emergency.
You never know when a storm will hit your community, how bad it will be or what damage it will cause. But the liklihood of surviving goes up when you are prepared.
This National Preparedness Month, we are focusing on putting the tools in place to make it on our own, at least for a period of time, no matter where we are when a disaster strikes. Just like having a working smoke detector, preparing for the unexpected makes sense.
Ways You Can Prepare now!
Organize a kit of emergency supplies.
Use what you have on hand to for you and your family to make it for at least three days with possibly no help.
Focus on food, clean air, and water as your priorities. In a state of emergency, comfort may not be at the top of mind, but instead survival after a fire, flood, hurricane, or even an ice storm.
A gallon of water a day per person in your family is a great guideline as to how much to store.
Also include a three-day supply of non-perishable foods that are easy to store and prepare, such as protein bars, dried fruit, or canned foods.
Sleeping bags, sweatshirts, jackets, hats and gloves are great for the winter months
Pack something to cover your mouth and nose, such as two to three layers of a cotton t-shirt, handkerchief or towel, or a filtered mask.
It is also recommended you include duct tape and heavyweight garbage bags in your emergency kit that can be used to seal windows and doors to create a barrier between yourself and any contamination on the other side.
Make a plan for what you will do in an emergency situation. Make sure everyone in your family is aware of what the plan is.
Using these steps as a start to prepare for emergencies, you and your family will know what to do in case the unexpected happens. For more information, check with your local government offices as to their plans and how you can work off of those.