SERVPRO of Lawrence and Preparing Your Small Business
3/20/2017 (Permalink)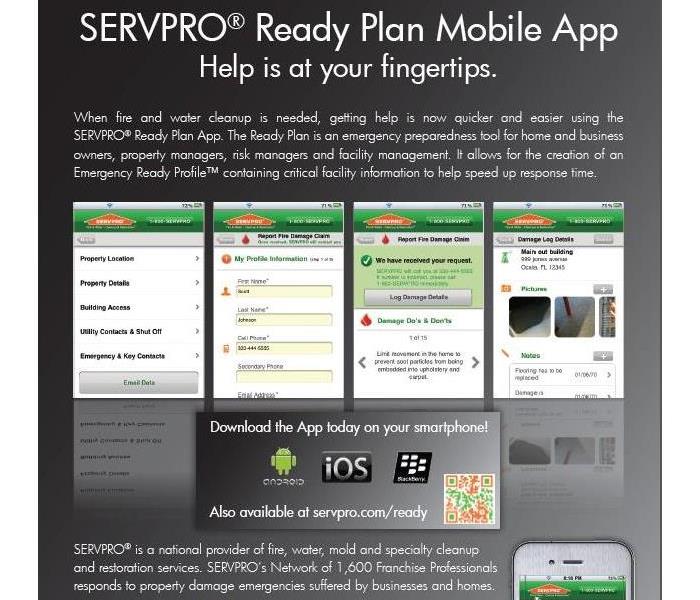 SERVPRO of Lawrence has the technology to have your disaster recovery plan right in the palm of your hand!
When it comes to your business, it is your pride and joy. You pray that a disaster never strikes, ruining all of your hard work.
"Small business owners invest a tremendous amount of time, money and resources to make their ventures successful, yet, many owners fail to properly plan and prepare for disaster situations. According to the Institute for Business and Home Safety, an estimated 25 percent of businesses do not reopen following a major disaster."1
Creating a business plan for disaster will help protect employees, shorten the amount of time you may have to be out of work, and possibly lessen the financial impact it will have on you.


Identify critical business systems – how long can they be down and what is needed to keep everything functioning.


Create an emergency communication plan with all those who have a stake in your business.


Enroll in the Red Cross Ready Rating Program


Build a supply kit that will keep your business and employees safe should you be at work when disaster strikes


Work with SERVPRO of Lawrence to build an Emergency Ready Profile. This will provide the information for all emergency personnel that need to be contacted when disaster strikes and when our Team arrives on site, it gives the knowledge of your building before we even step in the door. This provides efficient and faster service for you!


For more information on how to help prepare your business for disaster, please contact us at 978-688-2242 or SERVPRO of Lawrence.
1https://www.sba.gov/managing-business/running-business/emergency-preparedness/disaster-planning?SOCMEDSeptemberDisastergovd=&utm_medium=email&utm_source=govdelivery